Welcome to the stylish world of KAVE HOME, where contemporary design and quality come together to transform your home into a trendy and sophisticated living space. Whether you are looking for a new sofa, an elegant dining table, unique lighting or decorative accents, KAVE HOME has it all. In this blog post, we take you on a journey through the range and introduce you to the mesmerizing aesthetics of KAVE HOME. Plus, we have a wonderful surprise for MDR Luxury Homes members – read on to find out!
The brand KAVE HOME
KAVE HOME is a leading brand in the world of interior design. With a passion for modernity and a touch of classical influences, KAVE HOME creates unique and contemporary furniture and accessories. The brand strives for the perfect balance between style, functionality and durability. Each piece is carefully crafted with attention to detail and quality materials, resulting in timeless designs that last.
The KAVE HOME range
The range of KAVE HOME is extensive and diverse, so you can find everything you need to beautify your home. From sleek and comfortable sofas to elegant dining tables that make a statement, there's something for everyone. Chairs with contemporary designs add style to any room, while functional storage solutions help you create an organized and tidy space. Lighting options range from atmospheric lamps to eye-catching chandeliers, allowing you to create the right ambiance. In addition, KAVE HOME offers a range of decorative items, such as cushions, vases and works of art, that give your interior a personal touch.
KAVE HOME's Style and Inspiration
The style of KAVE HOME is contemporary, sophisticated and yet accessible. The brand follows the latest design trends and ensures that their collections are always up to date. Whether you like a minimalist Scandinavian look, an industrial look or an eclectic mix of styles, KAVE HOME has furniture and accessories to suit your personal taste. In addition, KAVE HOME offers inspiring interior advice and styling tips on their website and in their physical stores to help you create the perfect atmosphere in your home.
KAVE HOME Online Shopping and Exclusive Discount for MDR Luxury Homes
The convenience of online shopping makes it even easier to get your favorite KAVE HOME items. Visit the official website of KAVE HOME and discover their extensive catalogue. And here's the exciting news for readers of MDR Luxury Homes: when you make your purchases on the KAVE HOME website, you can take advantage of an exclusive 5% discount by using our personal code AFFMDR at checkout. This is a great opportunity to beautify your home with beautiful KAVE HOME products and at the same time enjoy a special price for your commitment as a member of MDR Luxury Homes.
MDR Luxury Homes and the Modular Outdoor Sofas Square
At MDR Luxury Homes we are also big fans of KAVE HOME. We absolutely love the modular outdoor sofas Square, which have a prominent place in our outdoor space. These luxurious and comfortable sofas provide the perfect opportunity to relax and unwind, while enjoying the outdoors in style. The versatile set-up options allow us to adapt the sofas to our needs and transform the space into an elegant and welcoming retreat.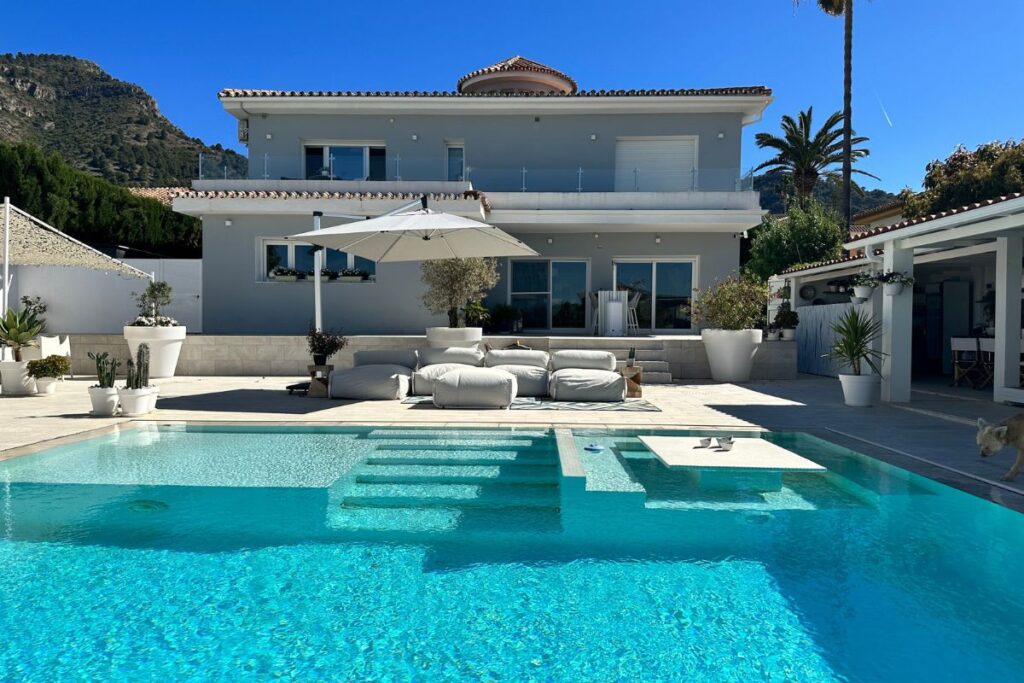 KAVE HOME is a brand synonymous with contemporary design, quality and stylish interior products. With their wide range of furniture, decoration and accessories, they have everything you need to transform your home into a fashionable and welcoming environment. Don't forget to use your exclusive 5% discount as a member of MDR Luxury Homes by applying our personal discount code AFFMDR at checkout on the KAVE HOME website. So explore the stylish world of KAVE HOME, be inspired by their stunning collections and make your home even more beautiful with affordable luxury. And who knows, you might even discover your favorite place to relax, just like we did with the modular outdoor sofas Square from KAVE HOME.