Calle los Almendros 255, 29130 Alhaurín de la Torre, Málaga
Main Content
Scroll Down For Property Details
Beds

2-3

Garage

1

Baths

2
Status

New Developments

Property Type

NEW LAUNCH!, Off-Plan

Neighborhoods

Estepona
About This Property
Bayside Homes, located in Estepona, presents a gated, modern, and functional residential complex designed for everyday living. With 41 thoughtfully designed one-, two-, and three-bedroom homes distributed across two low-rise buildings encompassing ground floor, first floor, second floor, and an attic floor in one portal, Bayside Homes offers a diverse range of housing options. Notably, all properties face the south-east direction, ensuring optimal natural light and providing captivating views.
Within the community, Bayside Homes showcases beautifully landscaped gardens, a communal outdoor swimming pool, a gymnasium, and a versatile multi-purpose room, all designed to enhance residents' daily living experience. The strategic south-east orientation of the homes allows residents to benefit from ample natural light while enjoying the stunning marine environment of the Mediterranean coast.
Bayside Homes places a strong emphasis on sustainability, reflected in the meticulously conceived and designed communal spaces. Throughout the complex, top-quality features and facilities underscore the commitment to providing residents with a high-quality living environment.
Each of the 41 Bayside Homes has been meticulously crafted to offer the perfect blend of design and comfort. The communal areas and spacious home interiors are thoughtfully designed to maximize the use of natural light, creating an exceptionally attractive product for those seeking peace and tranquility. Residents can relish in the spacious living areas designed with great attention to detail, featuring picture windows, large-format porcelain floor tiles, and strategically oriented houses that allow for optimal use of natural light at any time of day. The magnificent terraces offer an ideal space to enjoy breathtaking sunsets.
The kitchens at Bayside Homes have been intelligently integrated into the living area, providing a bright and spacious living space for all-day use. The specifications exemplify the high-quality standards expected from such a prestigious project, including quartz countertops, fitted appliances, and integrated LED lights that exude warmth and sophistication. In the bathrooms, the elegance of large-format porcelain tiles further reflects the overall commitment to quality and design.
Functionality, low energy consumption, and specifications aligned with sustainability, practicality, and comfort are core principles at Bayside Homes. The development ensures that residents can enjoy a well-rounded and fulfilling living experience.
Situated in the Arroyo Enmedio area, Bayside Homes benefits from a privileged location just minutes away from the beach, nestled within a peaceful suburban setting. The area is known for its wide range of services, international schools, supermarkets, hospitals, extensive sports facilities, and green areas. A short 5-minute walk leads to the renowned Arroyo Vaquero beach, spanning over 2.5 kilometers. Golf enthusiasts will find themselves spoiled for choice, with 30 golf courses within a 20-kilometer radius, including the esteemed Azata Golf and Valle Romano courses adjacent to the complex.
A mere 5-minute drive takes residents to the vibrant center of Estepona, offering a plethora of leisure facilities, entertainment options, bars, and restaurants.
Experience the epitome of luxury, comfort, and convenience at Bayside Homes. Book a visit today and discover the exceptional residential complex designed to enrich your lifestyle.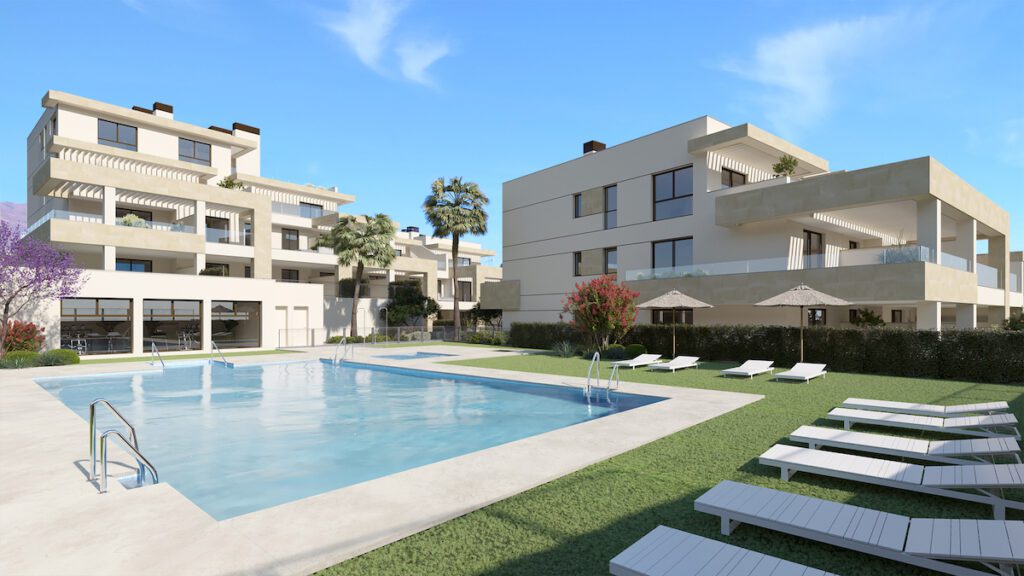 Connect With Myriam
We'd love to hear from you.