Calle los Almendros 255, 29130 Alhaurín de la Torre, Málaga
Main Content
Scroll Down For Property Details
Casa Nevis
Nueva Andalucia,
Beds

5

Garage

2

Baths

5.5

Land Area

1,200 sq. m.

Property Size

581 sq. m.

Terrace Size

93 sq. m.
Status

Luxury Properties, Ready to move in!

Neighborhoods

Nueva Andalucia
About This Property
Welcome to Casa Nevis: Your Mediterranean Oasis in the Golf Valley of Marbella
Discover Casa Nevis, an exquisite Mediterranean-style villa nestled in the prestigious Golf Valley of Marbella. Boasting breathtaking views of the sea and valley, this grand property offers a luxurious lifestyle surrounded by lush greenery and world-class amenities. With its open-plan layout, meticulous design, and convenient location, Villa Nevis is the epitome of elegance and tranquility.
Immerse yourself in the beauty of Casa Nevis, where expansive windows invite natural light and panoramic vistas into every corner of the home. With 581 square meters of meticulously crafted living space, this villa provides ample room for you and your loved ones to indulge in luxurious comfort.
Featuring 5 spacious bedrooms and 5 modern bathrooms, Casa Nevis offers a perfect retreat for relaxation and rejuvenation. Each room is thoughtfully designed to provide both privacy and a sense of togetherness, ensuring that every moment spent here is cherished.
Step outside and be greeted by meticulously landscaped gardens, where vibrant colors and fragrant scents enchant your senses. The 93 square meters of terraces provide ample space for al fresco dining, entertaining guests, or simply basking in the Mediterranean sun. Picture yourself lounging by the sparkling private pool, savoring the blissful moments of tranquility.
Villa Nevis is not only a haven of serenity but also a gateway to a vibrant lifestyle. Located in the Golf Valley of Marbella, prestigious golf courses are just a stone's throw away, allowing you to indulge in your passion for the sport. Moreover, a plethora of amenities and attractions are within easy reach, ensuring convenience and entertainment for you and your loved ones.
As a ready-to-move-in property, Casa Nevis offers more than just a magnificent home. It comes stylishly furnished and decorated, allowing you to embrace the Mediterranean lifestyle from the moment you step through the door. Experience the harmonious blend of contemporary design and timeless elegance that this villa provides.
Villa Nevis is a captivating property with an irresistible allure. Priced at 4.295.000 €, it presents a remarkable opportunity to own a slice of paradise in Marbella's Golf Valley. Don't miss the chance to call Villa Nevis your home and immerse yourself in the enchanting lifestyle it offers.
Contact us today to schedule a viewing and make Casa Nevis your Mediterranean oasis. Your dream lifestyle awaits!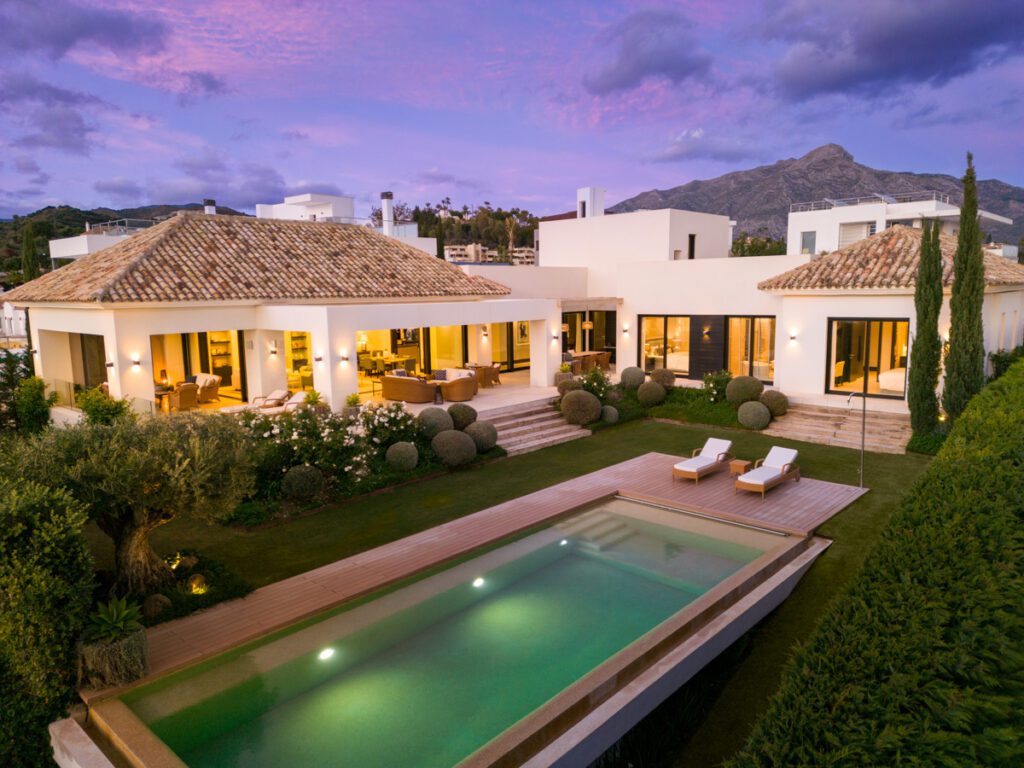 Connect With Myriam
We'd love to hear from you.