Calle los Almendros 255, 29130 Alhaurín de la Torre, Málaga
Main Content
Scroll Down For Property Details
Villa Bellini
Nueva Andalucia,
Beds

5

Garage

2

Baths

5.5

Land Area

1,253 sq. m.

Property Size

444 sq. m.

Community Fees

91€
Status

Luxury Properties, Ready to move in!

Neighborhoods

Nueva Andalucia
About This Property
Located in the heart of the prestigious Nueva Andalucia, Marbella, Villa Bellini epitomizes luxury living at its finest. A stone's throw away from the esteemed Los Naranjos Golf Club, this majestic villa invites its residents to a life surrounded by elegance, comfort, and unparalleled golf course vistas.
Key Features:
Prime Location: Nestled in Nueva Andalucia, Marbella's prime residential area known for its luxury villas, international cuisine, and proximity to Puerto Banús - the hub of luxury shopping and nightlife.
Elegant Design: This three-story villa, fully renovated, offers five expansive bedrooms, all accompanied by en-suite bathrooms adorned with high-quality fixtures and marble countertops.
Entertainment & Leisure: A meticulously landscaped garden, a sprawling private pool, a high-end kitchen for the culinary aficionado, and a temperature-controlled wine cellar in a finely decorated basement cater to all your entertainment needs.
Rooftop Views: As the golden hour approaches, retreat to the rooftop terrace, a haven for those seeking serene golf course panoramas or a delightful setting for evening gatherings.
Convenience: Two dedicated parking spaces within an exclusive and secure neighborhood ensure peace of mind.
Property Details:
Location: Nueva Andalucia, Marbella
Beds: 5
Baths: 5
Pool: Private
Garden: Private
Orientation: South/West
About Nueva Andalucia: Nueva Andalucia is often referred to as the "Golf Valley" owing to its world-class golf courses. It exudes a quaint charm with its Andalusian architecture, interspersed with modern luxury amenities. For those seeking the perfect blend of traditional Spanish charm and contemporary luxury, Nueva Andalucia is the place to be. Its bustling local markets, renowned restaurants, and proximity to the beaches make it a sought-after location for both residents and international visitors.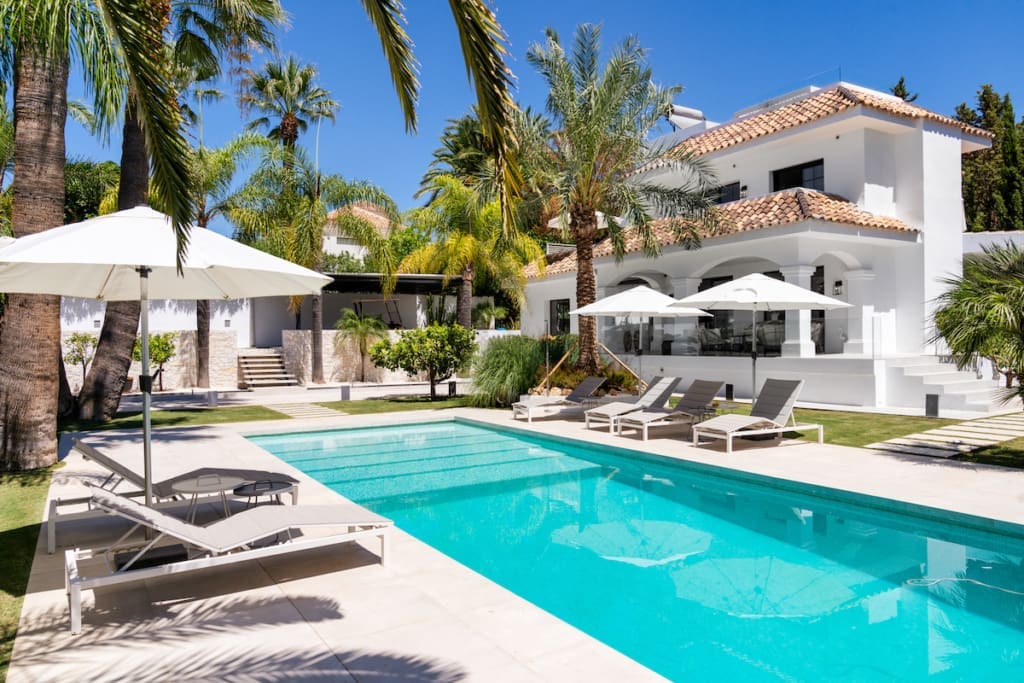 MDR Luxury Homes: At MDR Luxury Homes, we specialize in connecting discerning buyers with premier properties like Villa Bellini. Enjoy end-to-end guidance from Myriam De Roye, a seasoned real estate advisor based in Costa del Sol. Experience unparalleled service, rooted in passion and expertise.
Secure Your Viewing: Villa Bellini isn't just a residence; it's a testament to refined living. Embrace this rare chance. Book your private tour with MDR Luxury Homes today.
Connect With Myriam
We'd love to hear from you.