Calle los Almendros 255, 29130 Alhaurín de la Torre, Málaga
Main Content
Scroll Down For Property Details
Av. Generalife
Nueva Andalucia,
Beds

5

Garage

2

Baths

6

Land Area

1,263 sq. m.

Property Size

556 sq. m.

Terrace Size

418 sq. m.
Status

Co-Ownership 1/8 share

Property Type

Vacation

Neighborhoods

Marbella, Nueva Andalucia
About This Property
Whole home price: €3,695,000
This breathtaking house, Villa Vida is a stunning piece of modern architecture, combines luxury with clean lines and bright, open spaces, drawing inspiration from contemporary California living as well as the local pueblo blanco traditional style. It's the ultimate holiday hideaway in one of the most exclusive locations along the Costa del Sol — the hills above Puerto Banús.
The property is arranged over three levels. Above, an upper storey comprising a main bedroom with bathroom including free-standing bathtub, along with an exclusive sundeck, and two further bedrooms with floor-to-ceiling French windows which give onto a wide terrace with stunning views.
Below this, a main storey with open plan great room, comprising kitchen, dining and lounging areas, all opening onto a spacious outdoor living area and pool. The kitchen is sleekly finished to the highest specifications, including a stunning all-marble central work/breakfast island.
Underneath, there's a large family room and, tucked away at the back, two more bedrooms with a bath, perfect for children or guests.
Outside you'll find a diverse array of spaces: up top, a roof terrace set up for al fresco dining, along with a hot tub; another ample terrace on the bedroom level; on the main floor, an enticing infinity pool with plenty of surrounding space for sunning, eating and lounging; and further down, two tiers of immaculate private gardens, cascading elegantly down the hillside, all offering unparalleled views over Mount Concha and the Golf Valley.
This stunning, versatile space is located in one of Marbella's most exclusive neighborhoods and is a perfect haven for entertaining, relaxing and playing any time, given the year-round warmth and benevolence of the local climate.
Included is a large garage with space for four cars and outdoor space for more. The house comes fully furnished and professionally decorated.
Monthly Expenses: €587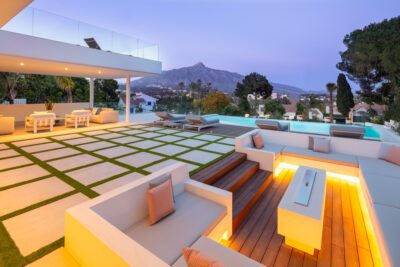 How we priced this 1/8 share
We give our homes a full design makeover, manage all aspects of limited company formation, and find qualified owners.
Purchase Price
Whole property: €3,695,000 -> €461,875
Home Upgrades & Completion
Interior design, furnishings & inspection -> €48,128
Pacaso Service Fee                                                                                   
Buyer aggregation, legal & stamp duty -> €70,205
___________________________________________________
Total 1/8 Ownership
Whole property value: €3,160,000 -> €580,208
Connect With Myriam
We'd love to hear from you.