Southern Spain is a rich tapestry of beautiful landscapes, passionate people and a fascinating history. It's also one of the popular destinations for wealthy people who are quick to snap up the increasingly limited supply of million-dollar homes in order to live the famed luxury lifestyle. Yet with such an expansive area and varied topography, the Costa del Sol should really be viewed as two distinct halves of the same coin: the country and coastal towns.
The magnificently multifaceted Costa del Sol
When anyone is looking for luxury apartments or luxury houses for sale on the Costa del Sol, most of us tend to conjure up images of the Coast's most iconic destination, Marbella. Blue Flag beaches as far as the eye can see, superb beach clubs, cosmopolitan restaurants, clubs, picturesque marinas and designer stores are just some of the delights on offer.  However, there are many different beachside towns and cities, not as famous as Marbella, which also offer access to desired sunshine and sea lifestyle. One such town is Estepona, a lively, busy beachside town with bags of history.
Country vs coastal city
Yet coastal towns are only one facet of the Costa del Sol. There are equally alluring inland pueblos with clusters of higgledy-piggledy whitewashed houses hugging the hillside, such as Casares, Coin and Istán.  There are also rustic fincas set within extensive grounds, providing blissful privacy, peace, quiet and fresh air. Which brings us to the question of whether you would choose the freedom of the country side or bright lights of a bustling town centre.
There are lots of benefits of living both in the countryside and town, particularly on the Costa del Sol. To help you decide which type of property, location and lifestyle would suit our requirements best, we'll take a look at Istán and Estepona.

Istán lifestyle and luxury townhouses and apartments
Remember those quaint whitewashed houses we mentioned earlier, this small yet beautifully formed village is brimming with character. Timeless is the first word that comes to mind, followed by spectacular, when you look out over the views of the La Concepción reservoir, across the coastline and the Mediterranean Sea.  Yet, almost unbelievably, it is only 20 minutes' drive from Marbella and Puerto Banús with their glitz and glamour and beautiful beaches.

Natural surroundings, modern convenience
Imagine if you could live in this beautiful natural environment surrounded by hundred-year-old trees and views of Istán Lake, whilst enjoying the convenience, comfort and style of the new luxury property. This is now possible with this exclusive boutique residences  Almazara Views and Almazara Hills.  If you plan to work from home or simply relax, you will be surrounded by five hectares of forests and mountain slopes of the Natural Park of the Sierra de las Nieves.
Outdoor lifestyle
Living in the countryside provides lots of opportunity to get out and about amongst nature, to enjoy everything that the countryside has to offer, from hiking, running, cycling, riding and much more. There are lakes, mountains, wineries, olive and almost groves spanning the rolling landscape.
Estepona beachside bustle
On the other hand, if you prefer the buzz of bustling town or you are dreaming of owning luxury real estate close to the beach, you need look no further than Estepona. This traditional town centre also has many whitewashed houses and winding cobbled streets, most of which are adorned with colourful blooms. The town is increasingly acknowledged as being the prettiest on the Costa del Sol, and also one of the most desirable locations.
In addition to traditional housing stock, Estepona has some superb new developments of luxury apartments located close to the beach.  Isidora Living, is a brand new development of 102 apartment, that marries superb contemporary architecture with today's essential lifestyle features, such as a swimming pool, fully equipped gym, co-working space, co-living space and shared gardens. It is all about providing a fully rounded lifestyle experience.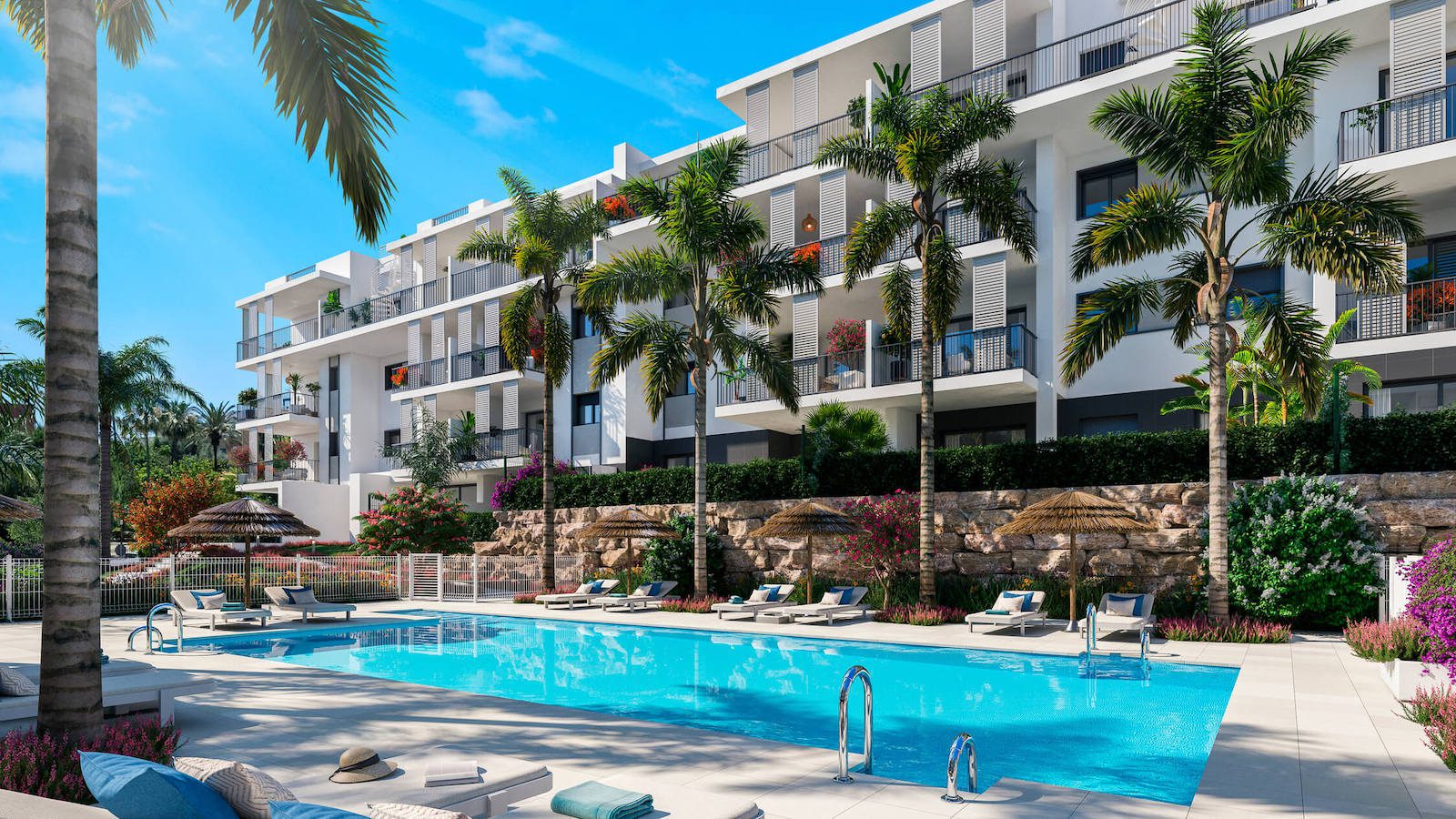 Rest and relaxation
One wonderful aspect of life on the Costa del Sol is the cornucopia of delicious dining experiences available to you. The region is blessed with the ripest and freshest produce, including local sourced fresh fish and seafood.  Estepona has every type of restaurant and cuisine, such as the humble sardine and tapas, which vie for attention with traditional paella and fine dining. There is also the option of experiencing Michelin starred gourmet restaurants, such as Malaga born Michelin chef Dani Garcia's venues in the neighbouring town Marbella.
Amenities and culture
Don't let Estepona's relaxed beachside vibe fool you, there is much more to this town than meets the eye. In recent years, the town has benefited from extensive investment, including the addition of a new hospital to its first-class healthcare provision. The town is alive and kicking offering every type of service you could need, from opticians to hairdressers, beauticians, gyms, tailors, supermarkets and there is even a safari park.  Arguably the most high profile landmark is the 5-star Kempinski hotel which recently displayed a Christmas tree adorned with 15 million dollars-worth of diamonds.
If you would like to find out more about the luxury homes for sale in the countryside and towns across the Costa del Sol, contact Myriam on Myriam@mdrluxuryhomes.com.
BE +32 476 211 233
ES +34 663 329 202