If you are looking for sea, sunshine and a much-coveted Costa del Sol style lifestyle, Malaga regularly appears in pole position on any must-do destination list.  As far back as 1928 when hotel owner Rudolfo Lussnig coined the slogan, "The Costa del Sol", the area has been attracting international visitors and those who want to put down roots and own luxury real estate on the Costa del Sol.
The Luxury Lifestyle in Marbella: A Guide to Glamour and Real Estate
If you are familiar with this beautiful corner of southern Spain, you will know that when buying property on the Costa del Sol you buy into a lifestyle of glamour. In particular, Marbella has a reputation for glamour and is known worldwide for its iconic landmarks and celebrity hotspots.
One of the most famous stories is Marbella's transition from a humble fishing village into a luxury beachside resort, when Prince Alfonso von Hohenlohe opened the Marbella Club in 1954.
In 1974, the Puente Romano Beach Resort also opened on Marbella's Golden Mile. It offers visitors a luxurious Andalusian beachside lifestyle. Nikki Beach Marbella is another iconic establishment, that must be mentioned, which arrived on Marbella's Eastern beaches in 2003 and instantly became the must-do celebrity hotspot famed for its legendary parties.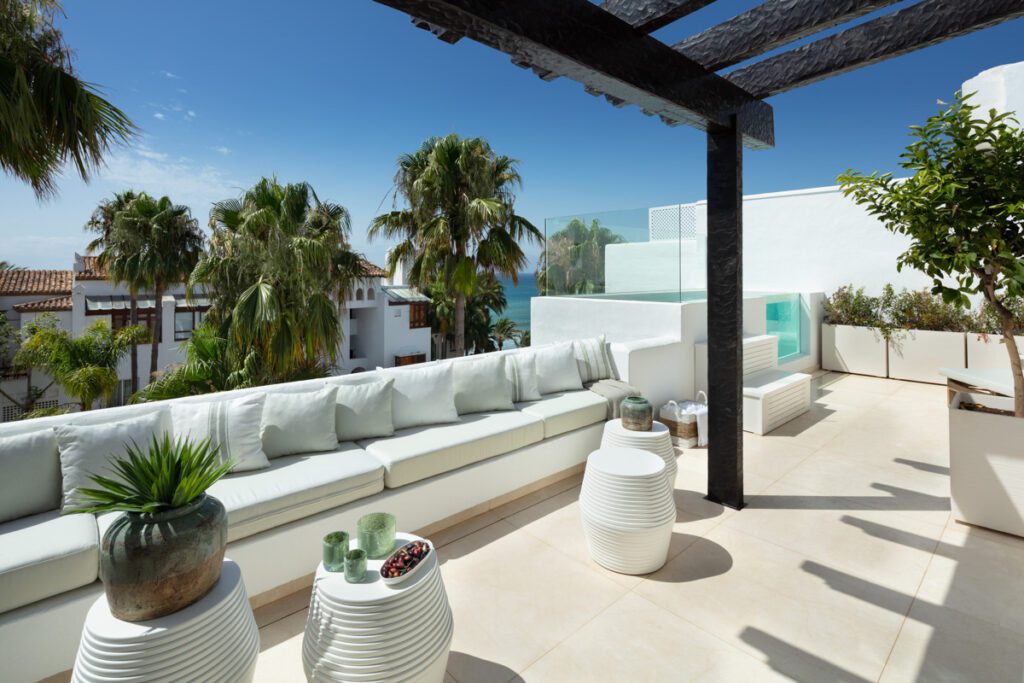 New Landmarks Enriching the Luxury Lifestyle in Marbella
However, it isn't all about long-established icons…if you think that Costa del Sol is resting on its laurels you would be very much mistaken.  In addition to these much-loved Marbella establishments, new and exciting restaurants (some run by celebrity chefs like Dani Garcia's Leña) and prestigious hotels are continuing to pop up. The constantly updated landscape of hotels, beach clubs and eateries, ensure that the area remains as one of the world's hottest and most relevant destinations for anyone looking for their dream home or an investment property.
Relais & Chateaux property in Marbella
La Fonda boutique hotel is a buzzworthy new arrival. Located in Marbella's historic Old Town, it's the first Relais & Chateaux property in the area. The hotel sits in a restored 16th-century building that features Moorish courtyards and modern design. A visit to Los Patios de La Fonda and La Fonda Sky Bar is a must.
Boho Club Marbell: A Fresh Take on Luxury Lifestyle
Another notable addition to Marbella's repertoire of hotel and dining experiences is the Boho Club Boutique Hotel. Although not strictly news (it launched in 2019), it is one of the most popular 'newer' venues to arrive on the Golden Mile.  This resort offers a laid-back boho style experience with the added services and amenities of a luxury hotel, with stylish bungalows and suites, gardens, bar, restaurant and swimming pool. The perfect place for a picnic or long lazy lunch or to indulge in the chef's new gastronomic experience.
Great food on the Golden Mile
We've mentioned a couple of the hotels and restaurants, yet these are just a drop in the ocean. If you own a property on the Golden Mile Marbella, you will be spoilt for choice, so to make your life easier, we've narrowed the field to bring you just five of our favourite restaurants on Marbella's Golden Mile:
If you like minimalist sophistication and superb authentic Japanese food, Nobu must be tried. Located in the Hotel Puente Romano Beach Resort overlooking La Plaza bar and lounge it is a great place to relax and enjoy a wonderful evening.
If you are planning on treating yourself, family and friends to an evening look no further than the stunning surroundings of the Marbella Club Hotel. The Grill is renowned for its attentive 5-star silver service, incredible time-tested recipes, traditional grandeur and an extremely switched-on sommelier. What could be more perfect?
Located at the entrance to the Puente Romano Beach Resort complex, this high-end Chinese restaurant has recently been fully refurbished. Imagine every Chinese restaurant you have visited …. Tai Pan is nothing like them. Imagine contemporary interior design and moody tones. If you fancy adding a little spice to your life and enjoy the delicate umami of Asian cuisine, Tai Pan is a great choice.
A picture postcard perfect beachside venue of pale palettes, sea, sun and sky, that tantalizes all the senses, creating a relaxing laid back dining experience. The menu offers a high-end Mediterranean menu with a nod to nouvelle cuisine.  Add to this chill out music provided by the coast's best DJs. Heavenly!
Another 5-star rated restaurant in the Puente Romano Beach Resort stable, La Milla specializes in fresh modern cuisine that is a million miles away from the usual beach bar menu. So close to the sea you can virtually touch it, you will dine on the best possible seasonal produce, daily catches sourced along the Andalusian coast. An extensive wine list including small vineyards and a wide choice of cocktails.
If you would like to find out more about the luxury homes for sale the Golden Mile or any other areas of Marbella and the wider Costa del Sol, contact Myriam on Myriam@mdrluxuryhomes.com.
BE +32 476 211 233
ES +34 663 329 202