Ojén, one of the best places to live
If you are wondering where to look to find the perfect luxury homes for sale, we have the answer for you – Ojén. But you don't need to take our word for it, way back in 2005, The Sunday Times, one of the UK's most respected newspapers, declared Ojén to be amongst the top 50 places to live in the world.
This sentiment was also shared by one of Spain's most famous singers, Julio Iglesias, who chose Ojén as his summer retreat, regularly holidaying in his luxurious 45-hectare private estate Las Cuatro Lunas.
Part of the municipality of Sierra de las Nieves, Ojén is a small inland town with around 3,500 residents and a big following amongst international buyers looking for luxury apartments and villas for sale in Spain. In fact, 23.1% of the population originates from overseas.
Why is it so popular? Apart from some of the most stunning luxury real estate…there is the wonderful location and bewitching traditional Andalusian feel. Nestling beyond the hills of Marbella, Ojén may be only 10kms from Marbella by car but it's a million miles personality wise.
Imagine when Marbella was more fishing village than celebrity hotspot, this is the traditional Andalusian lifestyle offered by Ojén, but with the added allure of the nearby glitz and glamour of the beaches, marinas and high-octane social life of Marbella and Puerto Banús.
Ocean View Luxury Homes
As if this is not enough to tempt you….Ojén is about to become even more sought-after with the release of Ocean View a brand-new development of super cool luxury apartments and penthouses adjacent to 230 hectares of protected nature reserves and just a stone's throw away from Ojén's town centre. New housing stock is in limited demand in Ojén, so this is exiting news for anyone who wants to immerse themselves in Spanish culture, with all of the comfort and high specifications of a modern luxury mansion.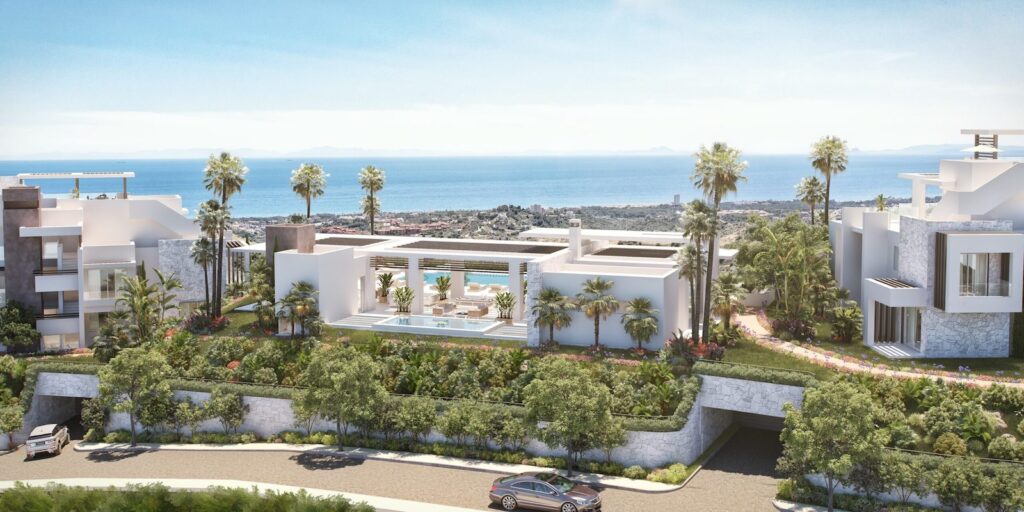 Perfectly located
To use a well-worn phrase, Ojén offers the best of all worlds, its close proximity to the Costa del Sol allows residents to enjoy an authentic Andalusian experience but with the added bonus of having all of the facilities of a world-class holiday resorts on the doorstep.
Relax and unwind
When you are in Ojén, it's possible to forget about living in the fast-lane. The pace of life is much slower in a traditional white village, you can stroll to the bar, enjoy a leisurely lunch or meander along the winding little roads.
The village is a favourite with those who enjoy hiking, trekking, cycling horse riding and of course a round or two of golf. There is something exhilarating about breathing in the clean mountain air and exploring the surrounding woodland, undulating valleys and rivers. Needless to say, the elevated position guarantee superb mountain and sea views.
Ojén offers a peaceful respite from the hustle and bustle of the Costa del Sol, a mix of traditional Spain and cosmopolitan coastal life …. a powerful combination that is impossible to resist.
If you would like more information about the laid-back lifestyle or help sourcing the best luxury homes for sale in Ojén, Marbella and the Costa del Sol contact Myriam.
+34 663 329 202 / +32 476 211 233